Hilgay Care Home in Burgess Hill is a luxurious care home, offering care and respite to elderly residents. Situated near care homes Haywards Heath, the care home provides a safe and comfortable environment for those needing help with daily activities. With an experienced staff of care workers and nurses, Hilgay offers round-the-clock care; ensuring that each resident's needs are met at any hour of the day or night. So, if you're looking for care homes in Haywards Heath and the surrounding area, why not consider Hilgay?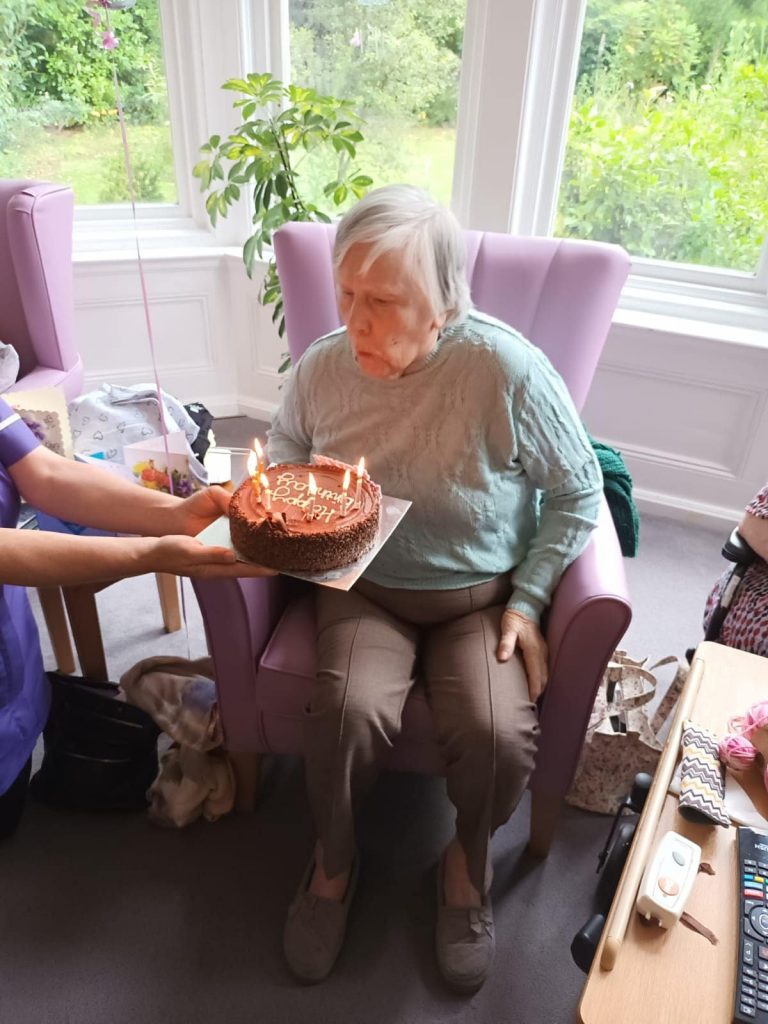 A Homely Environment
At Hilgay care home, a welcoming and homely atmosphere is paramount. The care team ensure that each resident feels safe and secure; helping them to settle in quickly and easily. With comfortable furnishings, cosy lighting and calming colour schemes throughout, the care home has been designed with its residents' well-being in mind.
Hilgay becomes our residents' home. So, it's crucial that we create a welcoming, warm and safe environment for them to live in. Our dedication to making our residents comfortable is something that we're very proud of. We feel as though it sets us apart from other care homes in Haywards Heath and the surrounding area.
A Dedicated Team
At Hilgay care home, each resident is given round-the-clock care by an experienced team of care workers and nurses. These professionals are dedicated to providing the highest standards of care. They strive to ensure that everyone in our care feels safe, secure and supported at all times.
Our carers take the time to get to know residents on a personal level. We feel that this has great benefit for all of our care home residents. It helps to build strong relationships that can provide invaluable support and comfort as they age.
Social Activities
The care team at Hilgay care home strive to ensure that the lives of residents remain active and enjoyable. During their stay, care home residents can take part in a variety of social activities – from quizzes and bingo to arts & crafts and film nights. Social events such as birthday parties, tea dances and live music evenings are also organised. This helps the care home's elderly population feel included and encourages them to interact with one another in a fun yet safe environment.
There's something for everyone at the care home! All activities are carefully structured around individual needs. Our care workers always on hand to provide assistance or support should it be required. Plus, family members are always welcome at Hilgay care home. This makes it easy for the care home's residents to stay connected with their loved ones. Our dedicated activities coordinator makes Hilgay one of the best care homes in Haywards Heath and the surrounding area.
Involvement in the Local Community
Like many care homes in Haywards Heath and the surrounding area, we love to stay involved with our local communities. So, we organise regular fundraising and charity events for care home residents and their families, as well as for charities such as the Macmillan Cancer Support. Additionally, we are often visited by local schools. These are wonderful experiences for students and residents alike as they help to break down the taboos and therefore, stereotypes that surround care home living. Furthermore, the students bring joy and light into the days of our residents. This is something we always look forward to.
Staying involved in the local community is very important for residents in care homes in Haywards Heath and beyond. We believe that it benefits our residents both mentally and physically, as well as building a sense of community spirit in care homes across the region. Furthermore, many of our residents have lived locally for years and love to continue to be part of their fantastic communities.
Contact Us
If you would like to know more about Hilgay Care Home, our residential and respite services, as well as what sets us apart from other care homes in Haywards Heath and the surrounding area, then please do not hesitate to contact us at 01444 244756 or info@hilgaycarehome.co.uk. Our care home is a special place for elderly residents who are looking for a comfortable and supportive living environment that puts their needs first. We look forward to hearing from you!
Article: Phoenix Marketing