Care homes become the resident's home from home. Therefore it is important to make life in a care home as comfortable as possible.
All of our residents have different requirements, and whilst we work to get to know our residents, nobody knows them better than their families. Therefore, it is important for families to support residents to ensure that their stay is as comfortable as possible. Thus making life in a care home comfortable and rewarding.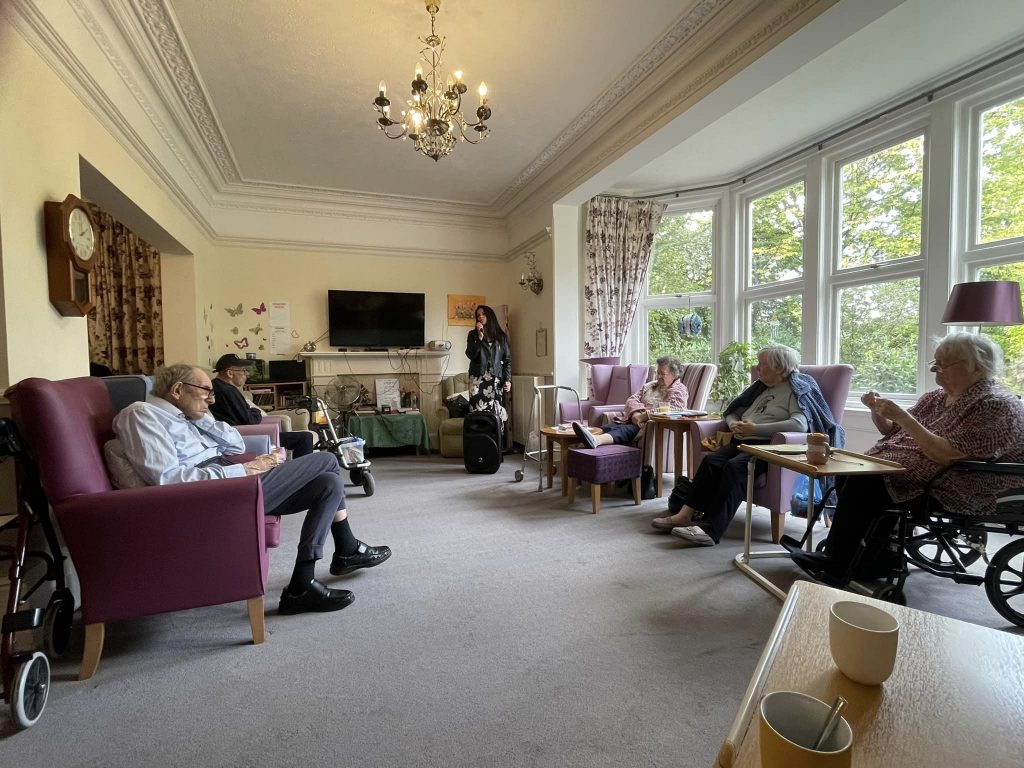 Decorate The Room
Pictures
Making residents feel comfortable in a care home is essential for creating a positive and supportive environment. One key way to do this is by decorating the room with personal items that can help bring comfort.
We all love memories, and photographs allow us to relive them. We recommend bringing photos of your loved ones and family to make them feel at home whilst staying with us. Photographs are very beneficial because it can make life in a care home feel more normal for residents. Moreover, they provide a talking point for staff and visitors.
Whether they are in a scrap book, frames, or large prints, photographs are brilliant. If you can, bring along a selection so that they can be changed regularly. This is especially important if your loved one has dementia, as it can help with orientation and reduce anxiety.
Artwork
If your loved one has grandchildren, they will likely love to see their artwork and messages. It is a great way to make them feel special and involved, as well as providing some conversation starters. We often display artwork in communal areas so that everyone can enjoy it, but we would be more than happy to put it up in your relative's room if they would prefer. This can make life in a care home far more comfortable as residents remain involved in the lives of their families.
Plants
Bringing a plant into the care home is a fantastic way of making it feel more like home for your loved one. Not only do plants look great, but they also have many benefits for our health and wellbeing. They can help to improve air quality, lift our mood and even boost brain function! If you are worried about your relative forgetting to water it, there are plenty of low-maintenance options available. Our team are also happy to help wherever we can.
Plants are also known to have positive effects on our wellbeing, so we would encourage you to bring along any plants that your loved one enjoys caring for. Not only will this provide a sense of purpose, but it can also help to brighten up the room and make it feel more homely. This can make life in a care home more enjoyable, as a plant provides residents with something to look after and to occupy their attention. This is important in avoiding boredom and loneliness.
Visits
Visiting loved ones in care homes can be a difficult experience. It can be hard to see our loved ones living in conditions that aren't always ideal. However, there are ways that you can make your loved one's life more comfortable and enjoyable in a care home.
One strategy for making residents feel more at ease is to engage with them on an emotional level. This could involve talking about old memories or sharing jokes with your loved one. It is also important to listen to what they have to say and show your support when they need it.
Furthermore, patience is vital. Your loved one is settling into a new environment. It could take some time for them to become completely relaxed. By being understanding and empathetic, you can help them to feel more at ease in their new home and make life in a care home far more rewarding. Moreover, this also improves the experience you have together as the your loved one is not stressed or anxious and is able to engage more with you.
When to Visit
Whilst visiting hours differ among care homes, we recommend visiting during the day. This is because our loved ones often feel more awake and alert during the day, making conversation easier. If you are unable to visit during the day, try to be flexible with your visiting hours. Obviously, this isn't always possible. So, we believe that it is best to have a set schedule when visiting your loved one. This creates routine and increases the likelihood of your loved one being more engaged when you come to visi. Planning ahead also gives your loved one something to look forward to. Visits are crucial in making life in a care home enjoyable and comfortable. Try to do this as much as possible.
Making life in a care home as comfortable as possible for residents doesn't just benefit them – it also makes visits more enjoyable for everyone involved. By following these tips, you can help your loved one to feel more at ease and make visits far more rewarding for both of you.
Hilgay Care Home
At Hilgay Care Home, we love to allow our residents to express themselves. Whether this is decorating their room, undertaking activities, meal preferences, or just having conversations, we know that this is a crucial aspect of making life in a care home enjoyable for all.
At Hilgay, we regularly run activities and events that encourage our residents to connect with one another and feel comfortable in their surroundings. Some of these activities include bingo nights, movie screenings, and outings to local attractions
We also work hard to ensure that each resident's room is a space where they can truly express their personality. From personal decorations to photos of loved ones, this allows residents to truly feel at home and comfortable.
We believe that making life in a care home as comfortable as possible for our residents is key when it comes to ensuring residents' happiness and well-being. We hope this guide helps you in making your loved one's stay as comfortable as possible.
To learn more about our home and the care we provide, explore our website or contact us today on 01444 244756 or info@hilgaycarehome.co.uk. Our friendly team will be happy to answer any questions you may have.